What is a bounce rate?
Have you ever walked out of a restaurant or café, immediately after going in? If yes, then you bounced! Perhaps you did not see the type of food you wanted, or you just didn't like the café's appearance.
Whatever the reason, you took one step in and one step back out.
The same also happens when people visit your site. They click in but immediately click out to look for something else.
This is what is known as a bounce in the SEO and Online marketing world.
A bounce technically means a single page or web session from a visitor to your website. Bounce rate refers to the percentage of visitors who leave almost immediately without interacting with other parts of the site.
Here are some examples that count as a bounce:
A visitor clicks or tabs the back button after viewing only the landing page
Somebody exits their web browser after viewing only one page
A visitor opens another site that takes them to something else after viewing one page on your website
Does bounce rate affect search engine rankings?
Many people have described the bounce rate as one of the metrics that Google uses in its ranking algorithm for several years. However, a few years ago, the tech giant came out to categorically deny any links between its ranking algorithms and bounce rate.
Now, while this information is a bit outmoded, no other data has surfaced to challenge or reject the notion. Similarly, a conversation between Andrew Lipattsev, Google's senior strategist and Moz Founder Rand Fishkin, emphasizes this point.
What we can confirm is that Google does not plug the numbers out from your Google Analytics account directly to determine your ranking.
However, it is safe to say that a visitor's interaction with your website is probably taken into consideration, and those interactions include whether they bounced or not.
What counts as good or bad bounce rate?
For any website owner or online marketer, bounce rates can be scary. It is evident that a low bounce rate is good for business, while a high bounce rate is bad for business.
For those who use Google Analytics (over 30 million actually), every time you log in, it's always there staring at you. The situation is even direr if the numbers keep surging.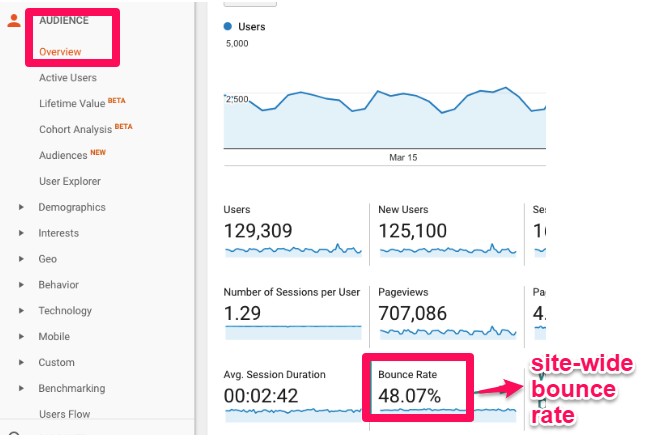 The bad or good thing, however (depending on where you stand) is that the numbers can easily mislead you. Besides, how high is too high and how low is too low?
Technically, there is no one good or average bounce rate.
Many factors determine what a reasonable rate is. For example, things like, type of devices visitors are using to visit your site, target audience, industry and business type all affect what a good bounce rate to a specific site.
What's more, bounce rates can vary significantly depending on time period, product categories, traffic source and more.
For example, leads that have been acquired via Google AdWords, have a higher chance of bouncing than those that come via search engines with specific goals or needs in mind.
Also, you should set your targeted bounce rate according to the main purpose of the page. Because according to ConversionXL, pages with rich content have a high chance of being bouncy. This includes pages like:
FAQ pages
Contact pages
Blog posts
Confirmation and Receipt pages
Similarly, when trying to determine your specific average bounce rates, try and see where you lie among your competition, related industries as well as how various audience groups bounce.
So, what is the average bounce rate?
Most sites have rates ranging between 26% and 70%. As a general rule of thumb used by most websites, rates that range between 26% to 40% are good.
55% to 70% is slightly higher than the standard; however, it may not be a cause for alarm depending on the specific site. Bounce rates that are higher than 70% could be an issue.
This is just a general guideline though, remember the tips I've mentioned before then test and measure.
How to use a bounce rate analytics
As mentioned earlier, the best way to determine your site's, as well as the pages' bounce rate, is through Google Analytics. Knowledge is power and data is knowledge. Utilize this tool to get all the essential insights and data about your site's performance.
This includes bounce rates as well as tracking the relationship between your site and target audience depending on what you offer.
To analyze specific pages, go to behavior, site content and finally all pages on the tool to find pages with the highest or lowest bounce rates along with their page views.
Similarly, to locate sources that are bringing most visitors to your site along with the bounce rates, head to traffic sources under search organic and then all traffic. Of course, you can use other analytical tools and services to receive this data.
Now, bounce rate is one of the most important Key Performance Indicators (KPIs) that can considerably help you gauge your operations easily. You can learn more about your clients, adjust and offer them better value than before.
Keep in mind that the right information will help you make appropriate decisions promptly so that your business can grow and move in your desired direction.
Is Bounce Rate an Important KPI?
Your website's bounce rate is an important indicator of where a particular page or full site requires fine-tuning when it comes to core website messaging and then providing your website visitors with the right content that they're looking for.
In fact, it determines what is working and what is not working or if you are drawing the right traffic. If your bounce rate is high, it technically means that you need to review your site's core persona with the content they should complement.
How to Reduce Website Bounce Rates
1. Write to your relevant audience

Relevant content and related keywords, in general, should be used throughout the website, in order to target the right users. Identify your primary target audience for the site and then create content that focuses on that audience.
Now, this should not be a hard nut to crack. Compare your bounce rate with your conversion rate, then you can get a good idea on whether you're attracting visitors who are looking for not only what your site offers, but also the product you're trying to sell. 
Focusing and honing in on a particular target group according to which part of the funnel they are at, helps ensure you are attracting people who want to buy what you offer.
2. Make your content accessible and readable
Your potential clients should not have to work hard to read your content. They are easily distracted and busy, so do not give them even a single excuse to bounce.
Keep in mind factors such as line height and font size. A good balance between the two aspects enhances readability considerably.
Another important thing is mobile-friendliness. 
Your website should be built with mobile-friendly in mind, Google recommends adopting a responsive design so everything in your website will automatically adjust to different screen sizes depending on what device your visitor is using, be it a Galaxy, an iPad, or a laptop. 
3. Concentrate on a state of the art Design
A good site design not only builds trust with users but is also intuitive. Your website visitors will not spend more than 5 seconds on a site that looks dubious or is challenging to navigate.
So offer a seamless user experience to your visitors by designing a site that is not only aesthetically pleasing but also easy to navigate, intuitive and functional.
4. Keep Mobile Top-of-Mind
Unlike desktop users, mobile users have less tolerance for lagging websites. A good website should have a mobile-friendly design to provide mobile users with a robust and seamless experience.
Like mentioned, build your websites with mobile users in mind. Make sure all your designs are responsive. In this age of mobilegeddon, go responsive or go, well, figures.
5. Utilize Google Analytics & Other Tools
There are several tools that you can use to track user engagement. For instance, Google Analytics can easily track;
Pages per session
Time on site
Most visited, and least visited pages
Other tools like HotJar, for instance, provide users with visitor recording and heat mapping such that you can smoothly see what users did during different sessions. You can also view how users are reacting to pages and then fine-tune the pages accordingly.
Moving a CTA (Click-To-Action) button up or down can make a huge difference to your conversion rate. So always test and measure.
6. Interlink your posts
Make it a bliss for your site visitors to go through your website by finding more publications and articles. Insert links into your products, articles and make people spend a minute or more when following these links.
Interlinking will result in more time spend on your website, which will eventually have a positive effect on your bounce rate. That said, ensure, that when using this method, the structure of your review, article or blog is not only accurate and smooth but also makes sense.
7. Showcase related posts and pages
Provide different pieces of blogs or articles that you think are likely to interest your target visitors. Once a blog reader is done with one article, link them up with other relevant and related material by inviting them to read.
Something like, (we thought you might like this…or that) and then present related articles, posts, services or products.
That's actually what we do, so remember to check out the related posts we have when you reached the bottom of this post
8. Split up content
Having your site with small content portions is one of the most effective ways of reducing bounce rates. As such, if you divide your long content and showcase various pages, you will indeed, enhance your website's user experience and increase readability.
You can use pagination or inserting tags into your posts to provide your site visitors with extra navigation options.
Conclusion
Bounce rate is a computation you can use to analyze your marketing campaign efforts. Use it to your advantage and determine if you are living up to your customers' expectations.
As such, if you aren't tracking your bounce rate, you are making a very huge and costly mistake and perhaps even missing out on big business.
At a fundamental or surface level of e-commerce websites, a high bounce rate means you are losing out considerably.
A surging rate is an indication that potential clients are jumping out of your conversion funnel with their money still in their pockets, which is not suitable for business.
This is what is known as an 'exit rate,' and minimizing it will considerably affect your portfolio positively.
Leverage this data to ascertain which pages require adjustment or a complete overhaul. Meeting or even exceeding your client's expectations will attract more and more leads leading to thousands of conversions.
And of course, an excellent website not only ranks better but also converts better.
#optin-template-3{
float: left;
margin: 0;
width: 100%;
max-width: 654px;
height: 100%;
}
#optin-template-3 .container{
float: left;
width: 100%;
height: 100%;
text-align: center;
background: #fff;
padding-bottom: 16px;
}
#optin-template-3 .top-row{
display: inline-block;
width: 88%;
padding: 3% 6% 0%;
}
#optin-template-3 .top-row h2{
margin: 5px 0 0;
font-family: "roboto", helvetica, sans-serif;
color:#B57DB7;
font-weight: 600;
text-align: center;
padding:0px 0px 5px;
font-size:2.2em;
}
#optin-template-3 .left-column{
display: inline-block;
width: 100%;
max-width: 270px;
min-width: 270px;
height: 100%;
vertical-align: top;
padding-top: 32px;
}
#optin-template-3 .ebook-img{
width: 100%;
min-width:270px;
height: 280px;
background: url(https://seopressor.com/wp-content/uploads/2019/10/8.png);
background-size: contain;
background-repeat: no-repeat;
}
#optin-template-3 .right-column{
display: inline-block;
width: 60%;
min-width: 250px;
max-width: 305px;
padding: 24px 4% 32px;
}
#optin-template-3 .bodycopy ul{
text-align: left;
padding-left: 0;
}
#optin-template-3 .bodycopy ul li{
font-family: "roboto", helvetica, sans-serif;
margin-left: 20px;
}
#optin-template-3 .optIn-form{
display: block;
}
#optin-template-3 .email{
display: block;
width: 100%;
border: 0;
padding: 8px 0;
font-size: 18px;
text-align: center;
border: 1px solid #B57DB7;
}
#optin-template-3 .submit-button{
display: block;
margin-top: 4%;
width: 100%;
padding: 8px 0;
font-family: "roboto", helvetica, sans-serif;
font-weight: 400;
color: #fff;
background: #B57DB7;
font-size: 21px;
border: 0;
outline: 1px solid #B57DB7;
cursor: pointer;
}
#optin-template-3 .container .align-justify { text-align:justify !important;}
|b0a6c337d0da45368755258153de47dd|
Beginner friendly and effective, check out our checklist for 10X traffic & visitors!
32 unexpectedly simple tricks even for total beginners
Printable checklist that's easy to use, easy to see and easy to understand
Start building up major traffic by simply ticking off the list