December 2019 SEO News Updates – More Updates for Google News!
December is all about Google News, so far.
Google Announcments
4/12/2019 – Larry Page and Sergey Brin hands Sundar Pichai CEO Role for both Alphabet and Google
This is Big News for the search engine industry! Per the Google blog, Larry Page and Sergey Brin, the co-founders of Google are stepping down from their roles as CEO for Alphabet and Google.
Here's the formal announcement:
"Today, in 2019, if the company was a person, it would be a young adult of 21 and it would be time to leave the roost. While it has been a tremendous privilege to be deeply involved in the day-to-day management of the company for so long, we believe it's time to assume the role of proud parents – offering advice and love, but not daily nagging!
With Alphabet now well-established, and Google and the Other Bets operating effectively as independent companies, it's the natural time to simplify our management structure.
We've never been ones to hold on to management roles when we think there's a better way to run the company. And Alphabet and Google no longer need two CEOs and a President.
Going forward, Sundar will be the CEO of both Google and Alphabet. He will be the executive responsible and accountable for leading Google, and managing Alphabet's investment in our portfolio of Other Bets.
We are deeply committed to Google and Alphabet for the long term and will remain actively involved as Board members, shareholders, and co-founders. In addition, we plan to continue talking with Sundar regularly, especially on topics we're passionate about!"
You can read CEO Sundar Pichai's first note to employees here.
10/12/2019 – Google launches new Publisher Center.
On 10th December 2019, Google announced that they're launching Publisher Center. It is a combination of two existing tools which is Google News Producer and Google News Publisher Center.
The purpose of the Publisher Center is to help publishers more easily manage their content across news products at Google.
It comes with various new features such as updating light and dark theme logos. On top of that, publishers can now point to the URLs for their website's sections instead of RSS to configure sections in Google News.
Another big change on that day is that the content for news will come from the web, meaning, all publishers will be automatically considered for Top stories or the News tab of Search.
So, if you want to be featured in the news section, continue posting high-quality content and follow Google's content policy. Read Google's content policy here.
SERP Updates
4/12/2019 – Google Images introduces custom date range filter
Google Image Search has dropped the custom date range filter when you try to filter by time. This seems to have been removed a few months ago, so this is not exactly "new".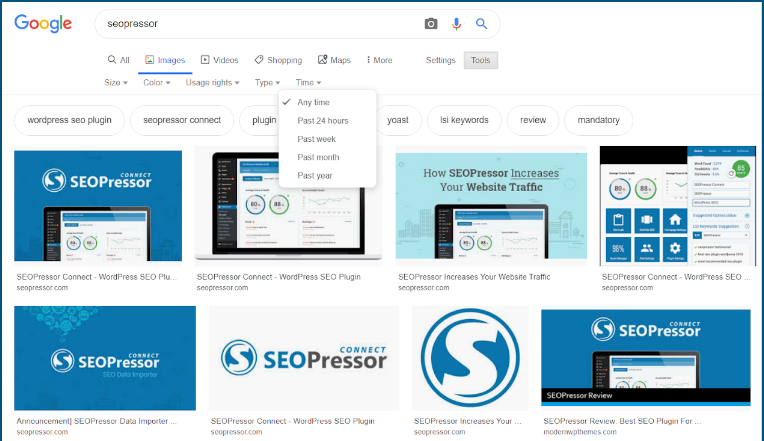 But now with this, you can filter images by the past 24 hours, past week, past month and past year.
11/12/2019 – News on Search organized by story now.

Take a look at the image above. Seems familiar right?
That's what you always see on Search for News. But, things have changed since 11th December 2019.
Google is all about improving user experience. Google announced that they have used a variety of machine learning methods including BERT to examine the relatedness of articles. Then, it separates articles into groups. Here's how the News section looks like now on Search, only for mobile as of now.
Google's research found that organizing news into clearly-defined stories helps people to easily navigate the results and identify the best content for their needs.
Local SEO Updates
3/12/2019 – Google confirmed Local Update in November
Google has now confirmed the numerous reports of a local search update that started early in November.
In early November, we began making use of neural matching as part of the process of generating local search results. Neural matching allows us to better understand how words are related to concepts, as explained more here: https://t.co/ShQm7g9CvN

— Google SearchLiaison (@searchliaison) December 2, 2019
Google added neural matching in local search, which is why there are many local ranking changes in the past month.
This allows Google to better understand when users' queries have local search intent even when the business name or description aren't included.