Email Marketing in 2019: Are You Utilizing Its Power?
When it comes to marketing online, you can't afford to ignore something as valuable as email marketing. In 2019, it is still going strong and is possibly one of the best strategies for your business.
You might wonder, with so many ways to reach your prospects these days, why should you even be relying on email marketing? Is it even worth all the time and effort?
YES.
Now, why do I say so? The reason lies in, marketers constantly need to connect with their audience in a highly personalized way, while staying on budget. In fact, no marketing category has the longevity of email marketing.
According to Oberlo, the daily email volume for 2017 was 269 billion as it is one of the most fundamental means of strengthening relationships with their audiences. In 2020, this number is expected to rise to 333 billion.
Let's think for a moment about your typical day:
Head to your inbox and tell me how many emails do you receive per day? If you're like me, you'd be getting TONS of them. You'd be glancing at your phone the moment you wake up while having your breakfast, as soon as you reach the office and a dozen more times throughout the day.
Sounds familiar? I'm even willing to bet that checking email is one of your top three tasks when you're on your phone. So, try telling to marketers and business owners worldwide that emails are not important. Or just ask anyone is email marketing dead in 2019. Highly likely, your response will be a huge no.
Why Email Marketing?
The email has become accustomed to what we do online. It is not unusual in today's on-the-go world that you are super dependent on emails. You depend on email for the news of the day, vital documents and meeting notices, discounts and coupons from retailers, occasional weekly newsletter updates, even notifications that tell you if your Facebook ad has been approved!
Besides, email is a much more professional medium and people expect to receive information through that channel. Studies show 72% people prefer to receive promotional content through email, compared to 17% who prefer social media.
With its proven track record, increased popularity, and adaptability, email marketing remains one of the most cost-effective ways to connect with new customers and reinforce relationships with current consumers. That's why building a successful email marketing campaign is more important than ever for business owners. Let's look at the types of email that helps you create that success.
The 5 Types Of Email
Blindly drafting an email and sending it out to your subscribers without understanding why you are embarking on an email campaign or what the ultimate message you'd like to convey WILL NOT significantly improve your email marketing efforts.
No matter how creative your email is designed to be or how attractive your copy turns out, you will ever create only five types of email messages. That is:
Awareness
Consideration
Conversion
Product Usage
Retention and Loyalty
Each of these types plays a unique role in helping your business drive home its brand or marketing message with a customer. Once you have identified why you are sending that customer an email, you can effectively choose which type of emails you should send to your prospect.
(i) Awareness
At this stage, you are simply trying to create awareness that your brand exists in the consumer's mindset. The people you're targeting in this stage either don't know you or have very limited knowledge of your company and products.
This goes beyond "Hi, I'm Winnie, and I'm selling this to you". That's not enough.
Instead, they want information; they aren't ready to make a purchase just yet. Any resources you use in this awareness stage should be focused on developing trust and moving them further into the marketing funnel. An example of awareness email looks like this: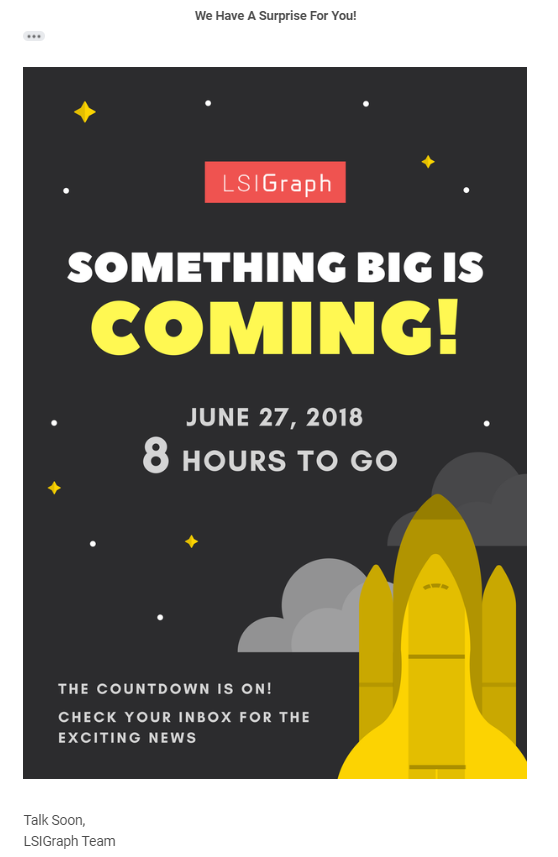 The purpose of this email is simply to make consumers aware of something they may be interested in and put the thought into their heads that more messaging is coming so that they will be more receptive to the next message.
(ii) Consideration
Once you've caught your consumer's attention (usually after several times of being exposed to your product or service), another type of email should take place; email messages that create and drive consideration.
By this stage, ideally, you've turned your prospect into a lead. It is about convincing your customer to choose you over your competitors.
An example of consideration email can come in the form of offering more information about your brand, product or service.
Try including quotes or snippets of reviews in your email to show customers what they can expect from your product/service.
(iii) Conversion
As straightforward as it gets, conversion emails are those standard, hard-hitting, "Buy Now". "Sign Up Today" emails. To convert readers at this stage, you should already prepare them to be in the mood and have the mindset to purchase something from you.
Emails that are conversion-based either have a well-known product or service or are offering something price-sensitive that could lead to an impulse buy. For instance, the travel industry typically sends these types of emails in an attempt to get people to buy.
When presented with this email, it helps nudge their customers to book more trips frequently and helps you deliver better experiences. Another smart move!
(iv) Product Usage
After the initial sale has been made, your best bet is to keep the lines of communication open and capitalize on this effort; by sending emails as they are using the product.
Research says that consumers are 127% more likely to purchase something else from your company immediately after they have completed their initial purchase.
Say after your users purchased your product, they'd receive a confirmation email. And inside the email are recommendations of other products that people who bought the same thing also purchased. Here's how it may appear in your inbox:
This sneaky but clever approach to upselling in email marketing works better than you could ever imagine! All hail the powers of email marketing!
(v) Retention and Loyalty
Retention is when a brand reaches out to build a relationship with the new customer. As such, there are several types of loyalty emails you could be sending such as re-engagement emails.
The best way to do it? Show that you know them. The role of loyalty emails is simple: keep your company's sense of value on top of the consumer's mind. Often referred to as newsletters, loyalty emails don't sell, they give value!
Take SEOPressor's very own weekly newsletter for example. The email is not sales-oriented but it is meant to build a relationship with our readers and reinforce that they made a good choice of joining the family in the first place.
An effective email marketing begins by getting one of the five types of email into the consumer's inbox and driving the right reaction from the reader. Nevertheless, whichever type of email you are sending, the bottom line for every type is value to the readers.
5 Powers Of Email Marketing in 2019
Email is alive and kicking in 2019. While some marketing trends come and go, the email marketing trends remains the most powerful channel available to the modern marketer. Let's dive into the five powers of email marketing in 2019.
1. List Growth
Do you realize that on average, about 70% of visitors abandoning your website will never return? It's true, just look at Google Analytics and compare the number of new visitors vs returning visitors.
That is why you absolutely need to convert every website visitor into an email subscriber before they choose to leave your site, so you can send relevant messages to bring them back. Today, if you're not building an email list, you're making a huge mistake.
Here's Michael Hyatt, the renowned leadership mentor has to say about his email list;
"I have literally built a multi-million dollar business on the strength of my email list. Ninety percent of my income comes from it. Even today, my email list is still my number one business priority – and asset"
How did he actually do it?
Well, Michael knows that growing an engaged email list is one of the most important parts of his email marketing campaign (but not by purchasing email lists). And for a lot of business and organizations, it's also one of the most challenging aspects.
As you are given very little time to engage with them in the first place, your email sign up forms have to be noticeable so that visitors don't leave without subscribing to your website. Attaching something valuable (ebook, guide, video, cheat sheet, exclusive access, etc.) to your email signup form is a surefire way to pique interest.
The most effective designs here are simple. As you can see from above, the pop-up just asks for the email address. Nothing else. Once you have their email address, you can then follow up with a welcome email series to gain further details if required. The point is, you are making it as easy as possible for potential subscribers to sign up.
2. Create Brand Impact
One thing is for sure; your email message is going to have an impact on, and be impacted by, the strength of your company's brand. If you commit to delivering valuable information to your subscribers, there may be times where they would share it others too if they find something interesting.
That way, you can strengthen brand recognition with new and potential clients, and extend your reach when people forward your message. If the impact from it is good, your email program will enhance credibility with your consumer and moves them a step closer to engaging with your organization.
If the impact is bad, the possibility of single-handedly ruining the chances that your reader will do businesses with you ever again is high. And you won't want that to happen.
Thus, when planning your e-mail marketing campaign, it is extremely important to mention your brand accurately so it becomes a reliable reference for consumers.
One of the first things to consider if you want to make your emails synonymous with your brand is to strategically add your logo to the email newsletters you send (as seen above). This will make your business easily identifiable to users and build brand awareness of it.
Your brand's theme should resonate throughout the email, making it easy for the customer to identify with your brand from the start to finish. Make sure to give them a better experience that will leave them with a lasting impression of your brand.
3. Drives Conversions
Conversions – whether they take the form of a customer placing an order, downloading an ebook, registering for a webinar, etc. – are a goal every email marketing message and campaign.
Today, email delivers the highest return on investment (ROI) for digital marketers. In fact, for ten years in a row, email marketing has been driving $38 for every $1 spent. When handled properly, email marketing can help you acquire new customers, sell more products, and increase revenue.
To boost your conversion rate, start by focusing on improving your open rate, which means, among other things, make sure you nail your subject line and personalize your messages. Here's an example from Aweber as seen below:
Altering specific elements of your email campaign may potentially be the key to improving your conversion rates.
Sometimes, something as minor as changing the subject line may make the difference between high and low open rates. Besides, start optimizing your emails for mobile devices if you haven't already. It's one of the things that marketers often miss out on.
Conversion is not a one-day wonder. You cannot send one email and expect to see a spike. Just do the right practices (sending emails at the right time matters too!) and you'll see your conversion rates increase in no time!
4. Builds relationships
When you choose to trust someone, it is because you've invested in communicating and connecting with that person about the right things. In this case, the same applies when it comes to interacting with your consumers using emails.
Whether the person is a new subscriber or someone who is already on-board as a customer, the emails that you send will help them get to know you better and eventually trust you. It's true that emails help nurture relationships.
For example, welcome emails, as well as lead nurturing emails can help foster relationships They help the prospect onboard your brand and learn everything they want to, before moving from awareness to consideration stage (remember the 5 stages I mentioned above?)
Emails like this give you the ability to stay top-of-mind and keep people engaged with your business. So go ahead and utilize its power if you haven't already!
5. Customer Retention
It is human nature to stick with things that we are already familiar or are used to. Much like an old friend, our loyalty and relationship with a brand are based on the efforts they put into staying in touch with us.
That is why it is crucial to keep in contact with your former customers via email marketing and that you adjust your messaging in those emails to keep them coming back for more. Here are four types of customer retention emails you can consider making use of:
a) Welcome emails


Use welcome emails as a way to motivate prospects to purchase or offer a recurring customer discount to previous buyers.

b) Abandoned cart emails


Create a trigger for people who add products to their cart without completing the purchase.

c) Thank You Emails


Reminding your customers that you appreciate their support and dedication to remain on your email list is all it takes for them to keep coming back for more.

d) Customer re-engagement Emails


The re-engagement email is your last chance to retain those long lost customers. At this point, you can consider offering an incentive.
Without a doubt, your existing customers are your most valuable assets in your marketing strategies, so keeping them engaged is essential to your brand's success.
Conclusion
Getting an email address is the first critical step to figuring out who your reader is and hopefully in the future, your customer of some sort. To date, it remains as one of the critical components of any business marketing plan.
If you're an email marketer or business owner who wants to increase your sales but have no idea how, hopefully, this blog post has given you some insights you can take home. Here's to getting the best out of email marketing in 2019. Ready to utilize its power from now on?
Can't wait to hear about your success stories in the comment section below. Let's get the comments rolling in!