Sometimes I'm tired of reading about Uber. Fast forward two hours and 17 articles later and I think I'm an Uber expert.
Here's the latest (originally in the Friday Dec 2nd Ms. Cheat Sheet newsletter):
Naked Capitalism reported that Uber has a negative 149% profit margin. A transportation expert (not me) did the research. So remember, Uber did not report these numbers. They don't have to report numbers since they're a private company. Still.
Ok back to the negative 149% profit margin!
To be clear running a tech company at a huge loss while still growing is not a novel concept. This is what most growing tech companies do in hopes of scaling and then "exiting" to pay back VCs and then some (this is done through an IPO or they get acquired). Uber is currently valued at $69 billion.
An IPO? How's that looking?
"Uber's refusal to consider an IPO may best be explained by the recognition that publishing detailed, audited financial data confirming these massive losses and the complete lack of progress towards profitability could undermine public confidence about its inevitable march to industry dominance." – naked capitalism
There's more. There's this thing called "subsidies" which is also known as piles and piles of money from venture capital investors. Based on the analysis by the transportation expert, we're only paying 41% of the true cost of our ride, thanks to the VCs. Uber can give us a break on cost and subsidize (pay for) our ride with the $15 billion in VC money.
Enter Amazon (AMZN). Undercutting competitors on price to gain market share at the expense of profits worked for years for Amazon.
What most people don't know about Amazon though is they were actually making gobs of money before they were recently profitable, they were just reinvesting it in the business, which drained their profitably numbers.

This model helped Amazon's share of e-commerce grow to over 40% and over 68% when you look just at the mass retailers. And don't forget the exploding e-commerce industry overall (right place right time).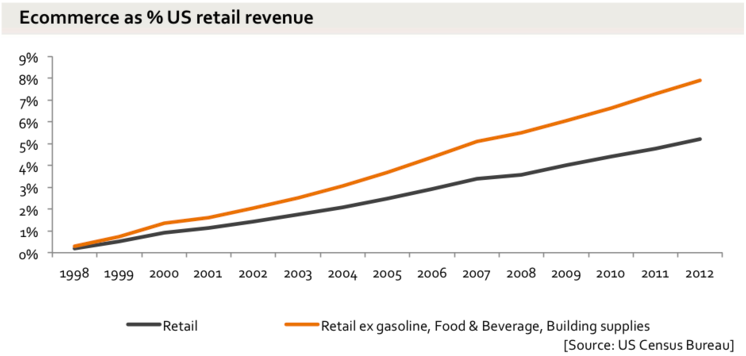 It seems as if Uber is attempting to take an Amazon growth strategy, except….
"losses of this magnitude are unprecedented; in its worst-ever four quarters, in 2000, Amazon had a negative 50% margin, losing $1.4 billion on $2.8 billion in revenue, and the company responded by firing more than 15 percent of its workforce." – naked capitalism
Oye. And this 'cost of sales' number estimate in 2015.

Uber seems to be hemorrhaging profit margins relative to Amazon. They're obviously not apples to apples. But still. What's the plan if global domination doesn't work?
To be continued. I'm Uber-ed out for now until of course I take an Uber to a party tonight. If there are any Uber VCs there, I will be thanking them for paying 60% of my ride and you should too.
The post You're not paying for your Uber ride. Someone else is. appeared first on Ms. Cheat Sheet.